The Hot Models and Capacity of Sand Screening Machine
Sand screening machine is widely used to classify the minerals such as stone,sand, ore and othe kinds of minerals in mining, quarry, construction, building material industry.
It can be featured with 2 layers, 3 layers, 4 layers. It is used to sort and classify the materials accoding to the particle size by its circular vibration.
The Price List of Sand Screening Machine
Different types and sizes of sand screening machine have different prices. The price is generally from thousands dollars to ten thousands or hundreds of thousands dollars. Our technical people will send the latest quotation and price list to you after you tell us your requirement such as the capaicty. You can also send an email to sales@shibochina.com to consult us.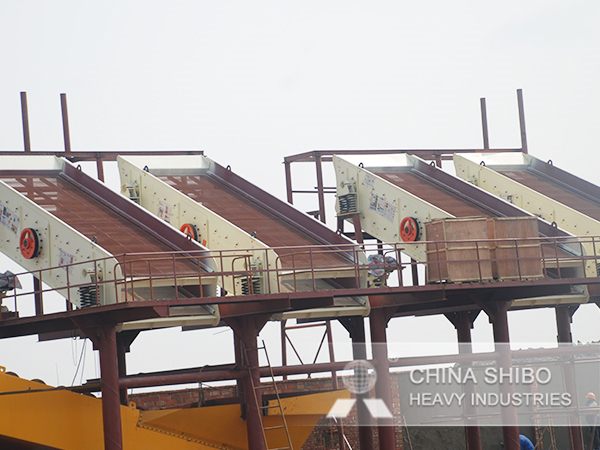 | | | | | | | | | |
| --- | --- | --- | --- | --- | --- | --- | --- | --- |
| Model | Screen Surface Specification(mm) | Layers | Feeding Size(mm) | Sieve Pore Size(mm) | Capacity(t/h) | Power(kw) | Vibrating Frequency(r/min) | Stroke(mm) |
| 2YZK1237 | 3700×1200 | 2 | ≤400 | 3-50 | 30-100 | 5.5 | 970 | 5-9 |
| 3YZK1237 | 3700×1200 | 3 | ≤400 | 3-50 | 30-100 | 7.5 | 970 | 5-9 |
| 2YZK1548 | 4800×1500 | 2 | ≤400 | 3-100 | 30-275 | 15 | 970 | 5-9 |
| 3YZK1548 | 4800×1500 | 3 | ≤400 | 3-100 | 30-275 | 15 | 970 | 5-9 |
| 2YZK1848 | 4800×1800 | 2 | ≤400 | 3-100 | 56-330 | 18.5 | 970 | 5-9 |
| 3YZK1848 | 4800×1800 | 3 | ≤400 | 3-100 | 56-330 | 18.5 | 970 | 5-9 |
| 4YZK1848 | 4800×1800 | 4 | ≤400 | 3-80 | 56-330 | 22 | 970 | 5-9 |
| 2YZK1860 | 6000×1800 | 2 | ≤400 | 3-100 | 65-586 | 18.5 | 970 | 5-9 |
| 3YZK1860 | 6000×1800 | 3 | ≤400 | 3-100 | 65-586 | 22 | 970 | 5-9 |
| 4YZK1860 | 6000×1800 | 4 | ≤400 | 3-100 | 65-586 | 30 | 980 | 5-9 |
| 2YZK2160 | 6000×2100 | 2 | ≤400 | 3-100 | 81-720 | 22 | 980 | 5-9 |
| 3YZK2160 | 6000×2100 | 3 | ≤400 | 3-100 | 81-720 | 30 | 970 | 5-9 |
| 4YZK2160 | 6000×2100 | 4 | ≤400 | 3-100 | 81-720 | 30 | 980 | 5-9 |
| 2YZK2460 | 6000×2400 | 2 | ≤400 | 3-150 | 100-810 | 22 | 970 | 5-9 |
| 3YZK2460 | 6000×2400 | 3 | ≤400 | 3-150 | 100-810 | 30 | 980 | 5-9 |
| 4YZK2460 | 6000×2400 | 4 | ≤400 | 3-150 | 150-850 | 37 | 980 | 5-9 |
| 2YZK2870 | 7000X2800 | 2 | ≤400 | 5-100 | 120-680 | 22x2 | 750 | 8 |
| 3YZK2870 | 7000X2800 | 3 | ≤400 | 5-100 | 180-720 | 22x2 | 750 | 8 |
| 2YZK3070 | 7000X3000 | 2 | ≤400 | 5-100 | 200-700 | 37 | 750 | 8 |
| 3YZK3070 | 7000X3000 | 3 | ≤400 | 5-100 | 230-800 | 45 | 750 | 8 |