Product related videos
Crawler mobile crushing plant is the company to meet the market demand, independent research and development of the full hydraulic drive crawler car chassis with mobile crushing and screening equipment. Crawler type moving crusher is mainly used for metallurgy, chemical industry, building materials, hydropower and other materials often need to relocate the operation, especially for highways, railways, hydropower projects such as the operation of the stone, the user can be processed according to the type of raw materials, Size and finished material requirements vary in a variety of configurations.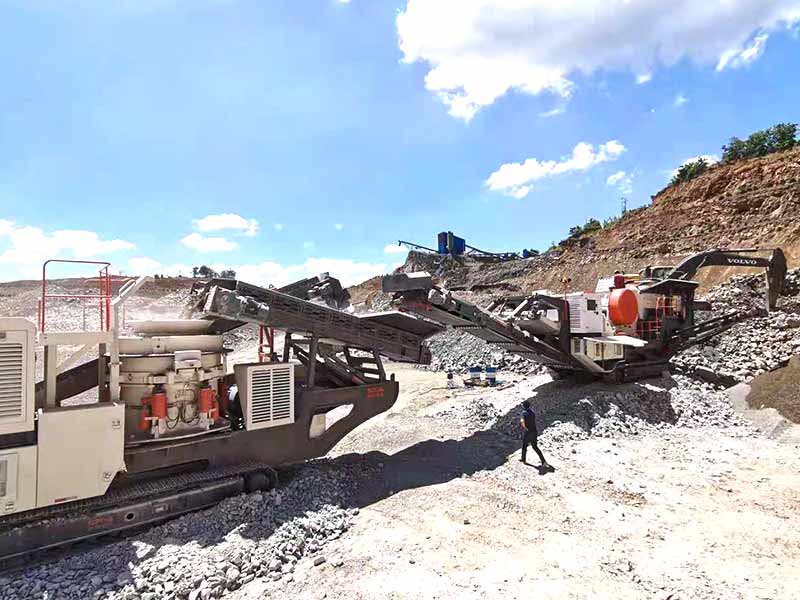 Moving flexible and high efficiency;

Large torque travel motor, driving force, high reliability.Excellent performance,high reliability;

Efficient and mature crushing and screening equipment selection, compact structure, stable performance;

Full steel structure of the chassis, with high strength, lower than the characteristics of ground pressure, the mountains, wetlands have a good adaptabilityp;

Excellent performance of the power system, the use of Cummins diesel engine, low fuel consumption, low noise, reliable performance, providing a reliable, economical, environmentally friendly power source.
Mobile crusher can be combined in accordance with the actual needs of coarse crushing or fine crushing, and can also be combined into coarse screening ,medium screening and fine screening system with high flexibility,which can meet various needs.
| | | | | |
| --- | --- | --- | --- | --- |
| Model | Device Configuration | Adjustable Range of Discharge Opening (mm) | Capacity (t/h) | Transport Dimension (mm) |
| SL15L | ZSW3896+LF150 | 40-100 | 100-200 | 13050 x 2950 x 3100 |
| SL25L | ZSW4211+LF250 | 50-120 | 200-400 | 12750 x 3000 x 3700 |
| SL35L | ZSW4213+LF350 | 50-200 | 300-500 | 14360 x 3000 x 3800 |
| SE69L | ZSW3896+PE69 | 60-125 | 100-180 | 12500 x 2950 x 3000 |
| SC96L | ZSW3896+SC96 | 60-175 | 120-455 | 13500 x 3400 x 2800 |
| SC106L | ZSW4211+SC106 | 70-200 | 155-580 | 14400 x 3600 x 3000 |