Some Basic Information of Sand Recycling Machine
Sand recycling machine is designed by our company absorbing the world advanced technology, combined with the actual working condition. It is widely used in aggregate processing system, glass factory, artificial sand production line, environmental protection project, and mud purify. Fine sand recovery device can be a reasonable decomposition of sand and water mixture, to achieve the recovery of fine sand project.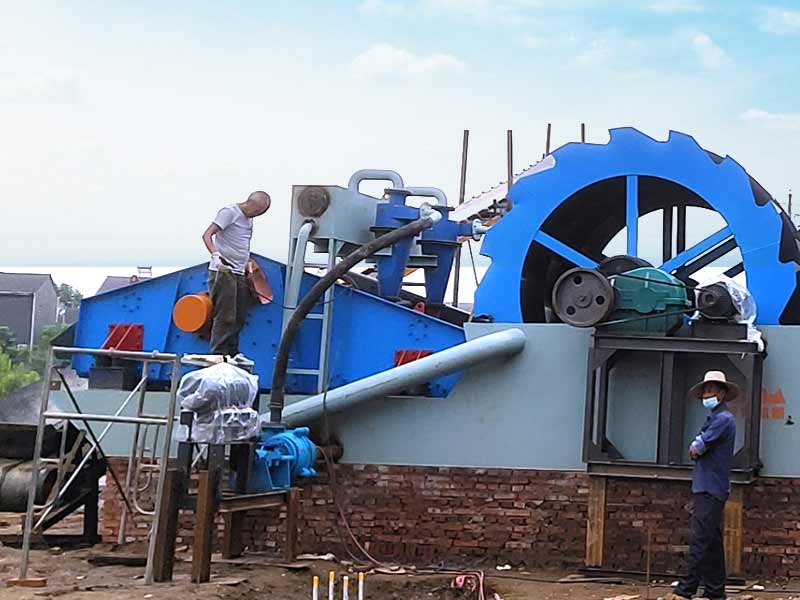 The Main Features of Sand Recycling Machine
1. The traditional artificial sand wet processing technology, artificial sand washing mud, dehydration using the spiral sand washing machine, artificial sand in the loss of fine sand almost can not control. The use of the fine sand recovery device, can effectively reduce the amount of fine sand loss, so that it is controlled within 5% -10%, a good solution to the artificial aggregate processing system in the finished product sand fineness modulus is high, Stone powder content is low problem.
2. Vibrating screen with polyurethane mesh than other types of screen life longer, and will not plug the hole.
3. Fine particles are fully recovered, reducing the sedimentation tank workload, reducing the sedimentation tank cleaning costs.
4. The flow of lined with polyurethane, to improve the service life of the entire device can be successfully completed slurry concentration, liquid clarification and so on.
5. The maximum recyclable emissions of 85% of the total fine particulate material, with other equipment unparalleled technical and managerial advantages.
6. To reduce the material stacking time, can be directly transported, supply the market.
7. According to the different requirements of users, design different solutions.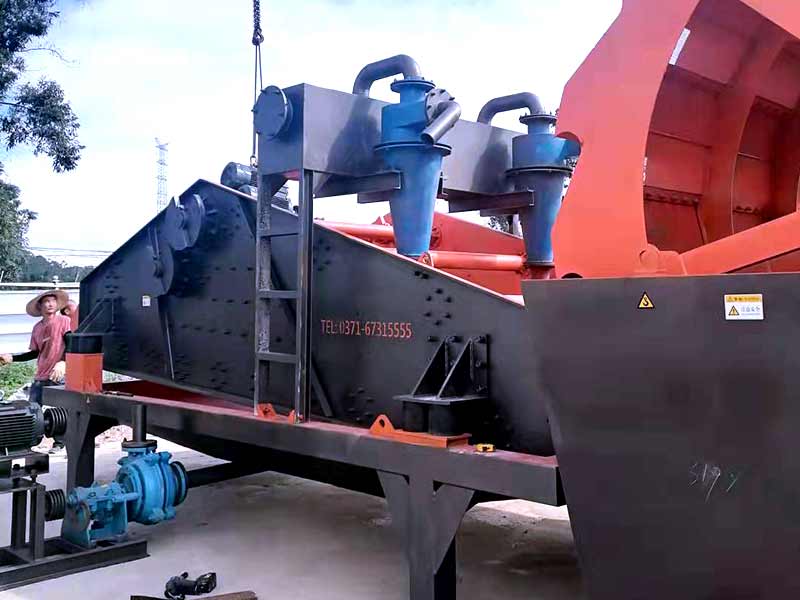 The Working Principle of Sand Recycling Machine
The pump sends the sand and water mixture to cyclone, the fine sand with eccentricity is sent to vibrating screen. The fine sand and water are effectively separated after dehydration, and little fine sand and mud go back to washing trough. When the liquid surface of the washing trough is high, the fine sand discharges from output opening. The linear vibrating screen can recover material with concentration 70%-85%, and fineness adjustable is achieved by changing pump rotation speed, changing mortar concentration, and adjusting overflow water yield.
Model
Separator specifications(mm)
Dehydration sieve material
Dehydration screen power(kw)
Pump motor power(kw)
Vibration motor power(kw)
Pump material
Capacity(t/h)
BX250
250
High polymer polyurethane
2x0.55
11-17.5
2x0.55
700x1800
30-80
BX300
300
High polymer polyurethane
2x0.75
11-15
2x0.75
900x2000
40-100
BX350
350
High polymer polyurethane
2x0.75
15
2x0.75
900x2000
70-130
BX550
550
High polymer polyurethane
2x1.1
15-22
2x1.1
1500x3000
100-220
BX650
650
High polymer polyurethane
2x1.1
18.5-30
2x1.1
1500x3000
120-272
BX750
750
High polymer polyurethane
2x1.5
37-55
2x1.5
1500x3000
1800x4000
180-350
BX900
900
High polymer polyurethane
2x2.2
55-65
2x2.2
1800x4000
2000x5000
250-500