Some Basic Information of Reversible Impact Hammer Crusher
PCFK Series of Reversible Impact Hammer Crusher has advantages of both Hammer Crusher and Impact Crusher. It can break brittle materials of medium hardness, such as coking coal, anthracite, coal used for fluidized bed boiler of heat power plant, coal gangue, gypsum, alum, etc.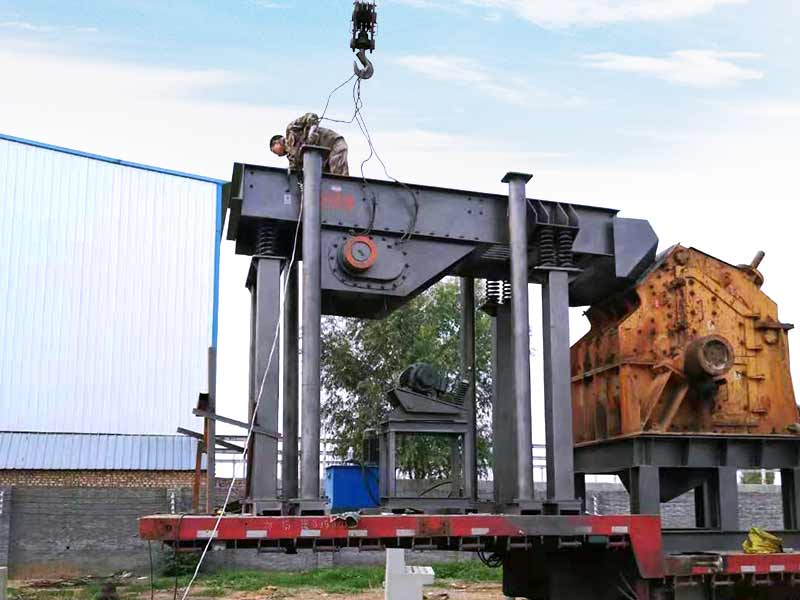 The Main Features of Reversible Impact Hammer Crusher
1. The rotor reversible operation, improve work efficiency, save time;
2. No screen bar, reducing the material blocking the situation of the carnival occurred;
3. The hammer is made of high wear-resistant alloy materials to improve the life of the hammer;
4. The use of heavy hammer head, the production efficiency than the general can be improved nearly 2 times;
5. Crushing chamber open convenience, easy maintenance, the use of hydraulic systems.
The Working Principle of Reversible Impact Hammer Crusher
Materials enter crushing chamber from feeding hopper, and are impacted to wear-resisting toothed plates on inlet by high speed hammers, this is the first crushing process. Crushed materials with almost the same size enter the main crushing chamber for second crushing. Materials from main crushing chamber are impacted between toothed plates and hammers for many times, and discharged from the outlet. Final product size can be controlled by adjusting space between rotor and impact plates.
Model
Rotor
diameter
(mm)
Rotor length
(mm)
Feeding size
(mm)
Discharge size
(mm)
Capacity
(t/h)
Rotary speed
(r/min)
Power
(KW)
Weight
(t)
100%
93%
PCFK-0808
800
800
≤80
0-6
0-3
25-40
740
90
4.9
PCFK-1010
1000
1000
≤80
0-6
0-3
35-70
740
90-110
11.4
PCFK-1212
1200
1200
≤80
0-8
0-3
100-180
740
220-280
19
PCFK-1214
1200
1400
≤80
0-8
0-3
120-220
740
220-280
21
PCFK-1216
1200
1600
≤80
0-8
0-3
150-250
740
315-355
24
PCFK-1414
1400
1400
≤80
0-8
0-3
220-300
740
355-450
25
PCFK-1416
1400
1600
≤80
0-8
0-3
250-330
740
355-560
30
PCFK-1616
1600
1600
≤80
0-8
0-3
280-350
740
450-560
32
PCFK-1618
1600
1800
≤80
0-8
0-3
300-400
740
560-710
37
PCFK-1818
1800
1800
≤80
0-8
0-3
400-450
740
710-800
45
PCFK-1820
1800
2000
≤80
0-8
0-3
450-500
740
800-900
50
PCFK-1825
1800
2500
≤80
0-8
0-3
500-550
740
900-1000
60