single cylinder cone crusher is divided into standard type and short-headed type which are used for medium crushing and fine crushing respectively. It is suitable for crushing all kinds of ores and rocks with high and over-medium hardness in medium,construction,water and electricity,transportation,chemistry and building material industry.Especially in the metal ore and construction of sand and gravel material is the most widely used.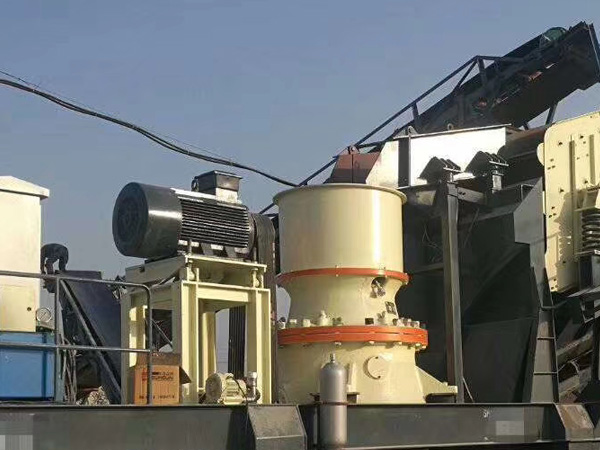 1.stable performance and Less failure
2.Compact structure and easy maintenance
3.Overload protection and good bearing lubrication
4.High efficiency,35% ~ 60% higher than spring cone crusher
5.Just replacing fixed cone can achieve various cavity shapes for fine crushing
6.Good quality final material,increas the cube proportion and uniform grain,reduce flake stone needles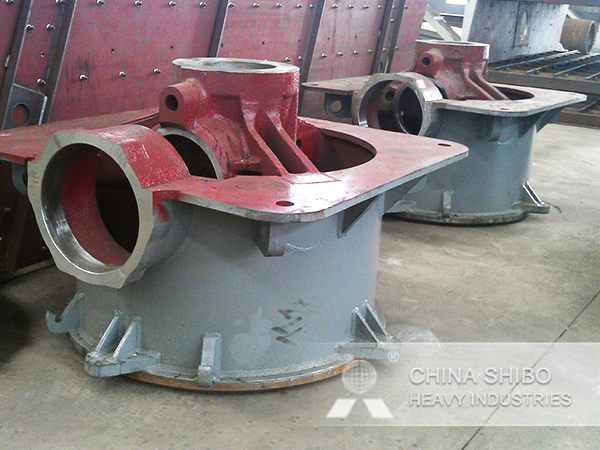 The electromotor leads the eccentric sleeve to rotate by the V-belt, drive shaft and drive gear. The movable cone does rotary and pendulum movement under the leading role of eccentric sleeve which makes the movable cone and fixed cone close and far away from time to time. The raw material is crushed in the crusher chamber by squeezing and striking continuously. The crushed stone discharges from the bottom.
Model
Cavity Type
Maximum feed inlet Size (mm)
Minimum Discharge Opening (mm)
Capacity (t/h)
Maximum installed power (kw)
SH420
S1 Extra coarse
240
22
85-170
90
S2 Medium coarse
200
19
70-130
SH420
H1 Fine
135
10
45-130
H2 Medium fine
65
8
35-80
H3 Extra fine
38
4
27-60
SH430
S1 Extra coarse
360
25
120-345
160
S2 Medium coarse
300
22
105-305
S3 Extra coarse
235
19
90-275
SH430
H1 Fine
185
13
60-210
H2 Medium fine
90
10
65-165
H3 Extra fine
50
6
48-105
SH440
S1 Extra coarse
450
35
255-605
250
S2 Medium coarse
400
29
215-515
S3 Extra coarse
300
25
190-490
SH440
H1 Fine
215
16
110-395
H2 Medium fine
110
13
115-340
H3 Extra fine
70
8
90-225
SH660
S1 Extra coarse
560
41
355-1050
315
S2 Medium coarse
500
38
305-895
SH660
H1 Fine
275
16
170-665
H2 Medium fine
135
16
190-505
H3 Extra fine
65
13
205-320
Coarse cone crusher technical parameters
Model
SH420
SH430
SH440
SH660
Cavity type
S1(Extra coarse)
S2(Medium coarse)
S1(Extra coarse)
S2(Medium coarse)
S3(Coarse)
S1(Extra coarse)
S2(Medium coarse)
S3(Coarse)
S1(Extra coarse)
S2(Medium coarse)
Closed side outlet size
19
70
90
22
85
75-95
105
95-125
25
90-115
80-130
120
115-145
105-170
190
29
100-160
90-115
135-175
125-200
115-220
215
205-270
32
105-170
95
140-230
130-255
120-235
230-300
220-345
35
110-145
150-295
140-270
125-250
255
245-385
230-435
38
115
160-310
145-285
135-265
270-355
260-485
245-465
305
41
170-330
155-305
140-275
285-450
270-515
260-490
335
320-420
44
175-345
165-265
150-245
300-565
285-450
270-430
350-460
340-620
48
190-310
175
160
320-605
305-400
290-380
375-590
360-755
51
195-260
335-525
300
305
390-720
375-790
54
205
350-460
410-860
395-825
60
445-930
425-895
64
465-980
450-825
70
500-1050
480-635
76
535-985
Fine cone crusher technical parameters
Model
SH420
SH430
SH440
SH660
SH870
SH890
Cavity type
H1(Fine)
H2Medium fine
H2(Extra fine)
H1(Fine)
H2Medium fine
H2(Extra fine)
H1(Fine)
H2Medium fine
H2(Extra fine)
H1(Fine)
H2Medium fine
H2(Extra fine)
H1(Fine)
H2Medium fine
H2(Extra fine)
H1(Fine)
H2Medium fine
H2(Extra fine)
Closed side outlet size
4
27-35
6
30-50
48-80
8
35-45
31-55
50-85
90-135
10
45
38-75
32-80
65-85
53-90
95-180
364-420
13
50-85
40-80
35-50
68-110
70-135
56-100
115-190
100-195
205-295
280-405
395-532
16
52-95
45-75
38
75-150
75-145
60-104
110-200
120-280
110-120
170
190-295
220-320
304-517
426-574
19
58-100
50-60
80-165
80-155
65-105
120-280
100-300
115-225
185-340
205-440
235-300
400-563
328-558
458-616
22
60-105
85-175
85-165
70-95
125-295
140-320
125-240
195-440
215-470
250--290
448-588
428-786
352-598
552-613
489-658
25
63-115
90-185
90-155
75
135-315
150-340
135-255
210-465
230-500
477-849
455-836
376-639
480-640
587-1043
520-700
32
75-130
100-210
100
155-360
170-285
150-210
235-550
265-505
544-968
519-953
400-680
547-1277
669-1189
593-798
38
110-210
170-390
185
260-605
290-405
601-1070
573-1054
455-775
605-1411
739-1314
655-882
44
185-385
285-665
658-1172
628-1154
503-728
662-1546
810-1440
718-883
51
315-515
725-1291
692-1271
551-669
730-1702
892-1586
790
57
782-1393
746-1372
787-1837
962-1604
64
849-1512
810-1248
854-1994
1045-1393
70
906-1331
865-1098
912-2128
1115