The Hot-sale Models and Capacity of Sand Washing Machine
Our sand washer/sand washing machine includes two types for choice: bucket wheel type sand washing machine (XS series) and screw/spiral sand washing machine.
Sand washer/sand washing machine (sand washing and sieving machine) is the commonly used equipment in artificial sand making production line. It is widely used to process silica sand, river sand, yellow sand, sea sand, etc. It is used to remove the dirt and impurities in sand for sand washing, classifying and grading to meet the standard.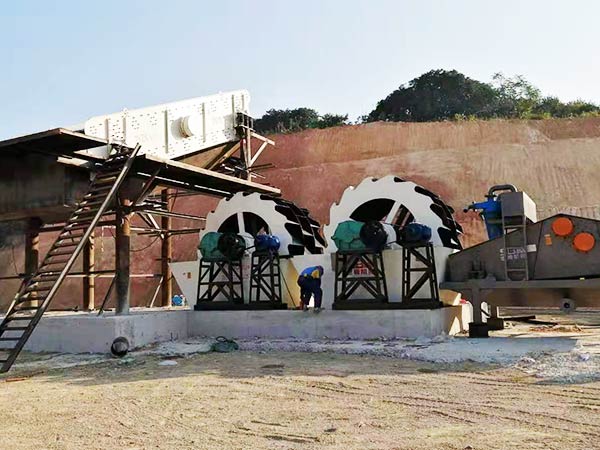 The Price List of Sand Washing Machine
Different types and sizes of sand washing machine have different prices. The price is generally from thousands dollars to ten thousands or hundreds of thousands dollars. If you need our latest quotation and price list, you can tell us your specific type and quantity after deciding its size. We will then send you the price list asap. You can also send an email to sales@shibochina.com to consult us.
| | | | | | |
| --- | --- | --- | --- | --- | --- |
| Model | Impeller(mm) | Feeding Size(mm) | Capacity(t/h) | Power(kw) | Overall Dimension(mm) |
| XSD2610 | Ф2600 | ≤10 | 30-60 | 7.5 | 3320 × 2125 ×2670 |
| XSD2900 | Ф2900 | ≤10 | 50-90 | 15 | 3810 × 2686 × 3085 |
| XSD3016 | Ф3000 | ≤10 | 80-120 | 18.5 | 3845 × 3000 × 3080 |
| XSD3220 | Ф3000 | ≤10 | 120-200 | 22 | 4150 × 3780 × 3400 |
| XSD3620 | Ф3600 | ≤10 | 150-280 | 30 | 4600 × 3780 × 3900 |