Stone crusher and sand making machine are two different types equipment. This article is mainly about the difference between stone crusher and sand making machine.
The final product of stone crusher is still large after crushing and can not be screened.Sand making machine is also called vertical shaft impact crusher,after crushing the final product particle size is different and it can be screened,so some final product can reach the use specification.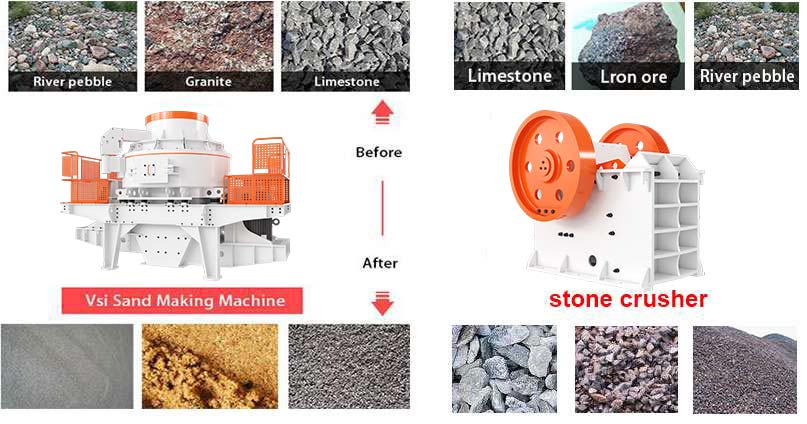 2.The invention of stone crusher is earlier than the sand making machine. The crushing equipment has many types:jaw crusher,hammer crusher,cone crusher,impact crusher,etc.The mainly function of stone crusher is to crush hard materials such as stones and minerals. Stone crusher is important in the production line as crushing equipment,and stone crusher only be used for crushing,but the crushing efficiency is higher.
3.The crushing method of sand making machine is using the centrifugal force of the impeller to make the material hit the lining or the lining, and then to crush it apart. In the sand making production line, it belongs to sand making or shaping.Moreover,sand making machine has the function of shaping and grinding,so it can adjust the size of the final product size according to the customer's requirements.
4.The use between stone crusher and sand making machine,stone crusher is mainly used to crush various medium hardness and brittle materials, such as granite, river pebbles,limestone, coal, ore, mechanism sand crushing, building stone crushing, etc.Sand making machine is widely used in various kinds of hard, brittle materials such as rock, abrasive, refractory material, cement clinker, quartz stone, iron ore, concrete aggregate, etc.So sand making machine is a common equipment in the field of artificial sand making and stone shaping.
This is all about the difference between stone crusher and sand making machine,if you want to know more detail ,you can send your need to our email:sales@shibochina.com ,or you can have a chat online!